Although autumn may seem like it's too far away to start thinking about, any avid sewer will know it's time to get together and start thinking about what they're going to create for the chilly season. Whereas summer may be all about creating vibrant beach throws and summer shorts, autumn is all about snuggly coats, scarves and blankets. If you are looking for inspiration to get you ready for colder months, we have curated a list of the best sewing patterns to get you ready for autumn.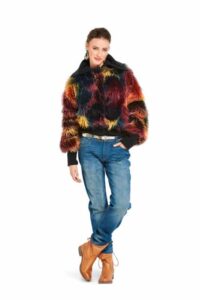 It wouldn't be autumn without fur! This fur coat makes the ultimate throw on for a chilly evening, whether you're going for a walk through the woods or out for drinks with friends. This pattern for a Burda Style Pattern B6359 Women's Fur Coat will leave you feeling fabulous all season long.
Wide-cut and excellently cuddly, this pattern comes with the opportunity for you to create two styles depending on your preference. Choose the blouson style with rib knit band at hem and collar or use a single fabric for the entire garment and customise with your favourite faux fur.
Sewing Pattern For A Women's Wrap Skirt
Skirts shouldn't just be reserved for summer days! The Burda Style Pattern B6375 Women's Wrap Skirt is elegant enough to be worn day or night, and long enough to make the perfect skirt for autumn. Make it extra warm by crafting out of faux leather for a sleek and sophisticated look.
This midi-length wrap skirt comes with patch pockets, angled bands and leather lacing as a finishing touch. Suitable for sizes 10-20, it's sure to become a seasonal favourite!
Sewing Pattern For A Sleeveless Double Breasted Coat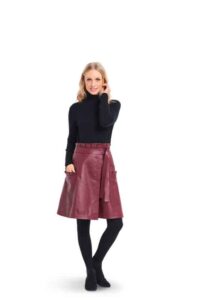 Although it does get colder as we get closer to winter, it can be hard to style yourself when there's a chill in the air on a sunny day. This Burda Style Pattern B6380 Women's Double-Breasted Coat is the perfect solution for those days when you just don't know what to wear.
This elegant and mature style has a classic double-breasted opening with a fitted shape and a modern longline silhouette. Use satin for the facings for an evening look, or play with the fabric and reflect your personality. This piece is truly unique and versatile, and its sleeveless pattern allows you to layer up or down to suit your needs.
Sewing Pattern For A Children's Duffle Coat
If you are looking to make the perfect toddler's coat for autumn, look no further. The Burda Style Pattern B9329 Toddler's Coat is a classic when it comes to children's winter fashion. The best thing about this style is that it is completely unisex, so you can reuse the pattern and experiment with as many fabrics and trimmings as you wish.
As this duffle coat is for boys and girls, you can create a classic duffle in a checked pattern, or jazz it up in red velour with fur trim. The possibilities are endless.
Get Sewing Patterns And Excellent Sewing Advice From The Professionals
At Sewing Direct, we are always happy to help you with all of your sewing needs. Browse our range of brilliant sewing patterns and find the perfect project for any season.
Whether you are looking for tips for beginner sewers or expert advice, we can help you along every step of your journey. Get in touch with us today, we would love to hear from you!