Learning to sew is one of the greatest skills you can master! From repairing your own clothing to creating your own business, the possibilities are endless - we're here to help you get started. 

Understanding each material and how it should be handled is one of the most important aspects of learning to sew. There are many different ways that fabrics can be made, including being woven or knitted, whilst being made from an array of materials including animal-based fibres, plant fibres and artificial fibres. We've put together a list of our top sewing fabrics for beginners and what you can expect when handling them!
Sewing With Cotton Fabrics
One of the most cost-effective options for sewing fabric is cotton! A favourite for many generations, cotton comes in all shapes and sizes meaning it's perfect for almost every project. A natural fibre, cotton is produced from cotton bolls grown from its plant. 

The structure is durable, absorbent, and holds dye extremely well. Some common uses for cotton include woven fabrics such as canvas, denim, flannel, and much more! Typically, cotton is considered one of the easiest fabrics to sew; take a look at our range of cotton fabrics today for some inspiration.
Sewing With Linen
Derived from the flax plant, linen is a sturdy natural fibre that comes from Europe. Although sometimes thin to the touch, this great fabric is strong and absorbent. Linen is typically used for clothing and bedding due to its soft, comfortable texture. This material is also extremely quick at drying, making it useful for a variety of projects.
Due to its light and airy feel, linen is a great choice of fabric when sewing summer clothes! You can create beautiful vests and skirts from a few sections of good-quality linen. Although easy to use, treat linen carefully when sewing as it is prone to shrinking and fraying - making it the second easiest fabric to sew so far!
What Exactly Is Polyester?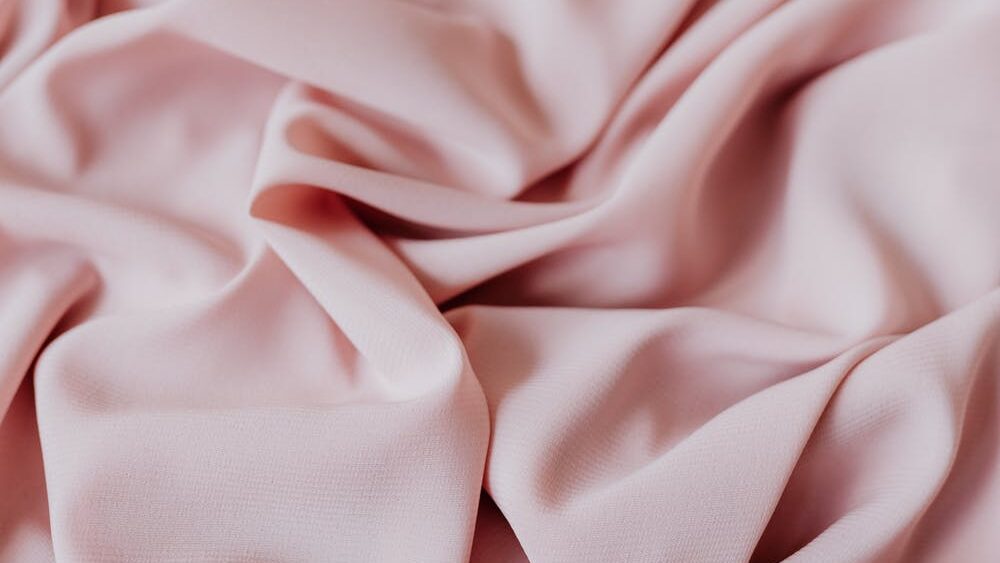 Unlike the previous two, polyester is an artificial fabric that is man-made. It is a manufactured synthetic fibre, made from a form of plastic that is typically derived from petroleum. Polyester fibres on their own typically have a soft and stretchy touch, making them extremely easy to use. 

Woven polyester is slightly more durable, while also feeling more light and silky to the touch. It has wrinkle-resistant properties which make it great to use for clothes, bedding, upholstery padding, and more. Browse our website to find the perfect polyester fabric for your project! Due to the many variations of polyester and the potential for them to stretch quite a bit, we'd rate this the third easiest fabric to sew in our list.
Experimenting With Viscose
Viscose is a really common fabric used in a wide variety of clothing and homeware! Soft and lightweight, viscose is naturally derived from the wood pulp of fast-growing eucalyptus or beech trees. It's an extremely versatile fabric that can be used for a wide range of upholstery, carpets, clothing, and more! 
Viscose looks a lot like silk but feels more like cotton. Due to its specific texture viscose can easily move around, so pinning it correctly is essential. Due to that reason, we consider this the most trickly material to handle. Browse our polyester and viscose mixed fabrics, like tartan, for a more durable option!
Choosing the Right Sewing Pattern
It's important to choose your sewing pattern before you choose your fabric. Typically, choosing your pattern will help you to understand what fabric would best suit your project, as well as how much of it you should buy. Once you've chosen both, you can customise your project with buttons, zips, colourful threading, and a variety of other accessories!
Shop Sewing Direct's Range Of Sewing Fabrics
Browse Sewing Direct's great selection of fabrics in our online store today! We also have some great sewing patterns available, as well as all of the other equipment you may need to complete your sewing project. Got a question? Get in contact today to speak with a member of our team. Happy sewing!
Although autumn may seem like it's too far away to start thinking about, any avid sewer will know it's time to get together and start thinking about what they're going to create for the chilly season. Whereas summer may be all about creating vibrant beach throws and summer shorts, autumn is all about snuggly coats, scarves and blankets. If you are looking for inspiration to get you ready for colder months, we have curated a list of the best sewing patterns to get you ready for autumn.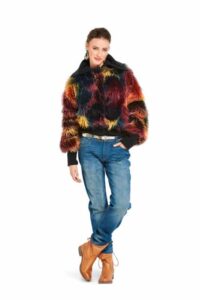 It wouldn't be autumn without fur! This fur coat makes the ultimate throw on for a chilly evening, whether you're going for a walk through the woods or out for drinks with friends. This pattern for a Burda Style Pattern B6359 Women's Fur Coat will leave you feeling fabulous all season long.
Wide-cut and excellently cuddly, this pattern comes with the opportunity for you to create two styles depending on your preference. Choose the blouson style with rib knit band at hem and collar or use a single fabric for the entire garment and customise with your favourite faux fur.
Sewing Pattern For A Women's Wrap Skirt
Skirts shouldn't just be reserved for summer days! The Burda Style Pattern B6375 Women's Wrap Skirt is elegant enough to be worn day or night, and long enough to make the perfect skirt for autumn. Make it extra warm by crafting out of faux leather for a sleek and sophisticated look.
This midi-length wrap skirt comes with patch pockets, angled bands and leather lacing as a finishing touch. Suitable for sizes 10-20, it's sure to become a seasonal favourite!
Sewing Pattern For A Sleeveless Double Breasted Coat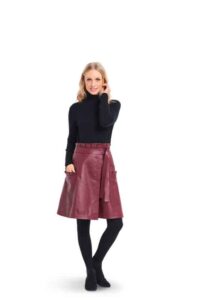 Although it does get colder as we get closer to winter, it can be hard to style yourself when there's a chill in the air on a sunny day. This Burda Style Pattern B6380 Women's Double-Breasted Coat is the perfect solution for those days when you just don't know what to wear.
This elegant and mature style has a classic double-breasted opening with a fitted shape and a modern longline silhouette. Use satin for the facings for an evening look, or play with the fabric and reflect your personality. This piece is truly unique and versatile, and its sleeveless pattern allows you to layer up or down to suit your needs.
Sewing Pattern For A Children's Duffle Coat
If you are looking to make the perfect toddler's coat for autumn, look no further. The Burda Style Pattern B9329 Toddler's Coat is a classic when it comes to children's winter fashion. The best thing about this style is that it is completely unisex, so you can reuse the pattern and experiment with as many fabrics and trimmings as you wish.
As this duffle coat is for boys and girls, you can create a classic duffle in a checked pattern, or jazz it up in red velour with fur trim. The possibilities are endless.
Get Sewing Patterns And Excellent Sewing Advice From The Professionals
At Sewing Direct, we are always happy to help you with all of your sewing needs. Browse our range of brilliant sewing patterns and find the perfect project for any season.
Whether you are looking for tips for beginner sewers or expert advice, we can help you along every step of your journey. Get in touch with us today, we would love to hear from you!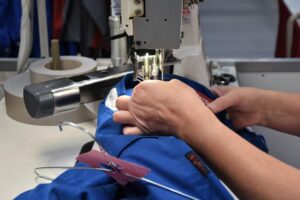 If you're looking to improve upon your sewing's output and efficiency, an industrial sewing machine may be the most sensible choice – but they can be quite daunting with their wealth of additional features and impressively efficient speeds and other capabilities.
Choosing the right machine, whether you're a seasoned pro looking to upgrade or a first-time dabbler, will help you to quickly conquer the learning curve and unlock a world of potential in your sewing.
What's The Difference Between a Domestic and Industrial Sewing Machine?
As the name implies, industrial machines are designed for more intense workloads, able to run for impressive lengths of time and tackle more demanding projects. They're not only useful in industrial settings, though; they're also ideal for sewers who are serious about improving their output and working at a higher tempo, even from home.
Because of their more heavy-duty nature, industrial machines do tend to require more maintenance than a typical domestic machine, which is worth bearing in mind.
The Top 5 Industrial Sewing Machines
Below is our pick of the top 5 industrial sewing machines to take your craft to the next level.
1. Singer Heavy Duty 4423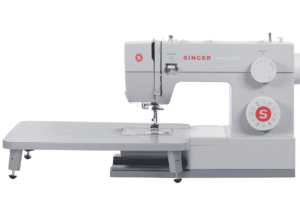 The Singer 4423 is a heavy-duty powerhouse, easily capable of handling tough jobs at home. As all industrial sewing machines should be, it's built for durability and long stints of activity. The best thing about it, though, is the price; it's one of the most affordable heavy duty sewing machines you can find, with no major sacrifices on performance.
2. Juki DDL-7000A
This entry boasts some out-of-this-world performance, with an incredibly high sewing speed (up to 4,500 stitches per minute) and a build quality that's designed to last decades of regular use. For what it offers, it's also very reasonably priced, offering industrial-level performance in a sleek, hardwearing package.
3. Janome HD9
The Janome HD9 is perfect for tackling large projects with its robust and sturdy build quality. It handles upholstery fabric and tough materials like leather with relative ease and feels first-class thanks to its aluminium body and weighty components. This is one worth looking at if you're wanting to tackle heavy jobs that require the machine to stay running for a long time.
4. Consew 206RB-5
The Consew 206RB-5 can perform up to 3,300 stitches per minute, a figure made more impressive by the longer stitch length (10mm, double that of the average machine). It might not be the best option for heavier materials like the Janome HD9 can handle, but what it lacks in raw power it more than makes up for in speed and ease of use. Once you've experienced how quickly it can get through projects, it's difficult to go back to other machines!
5. Juki LU-2810
Another Juki sewing machine that just had to make the list is the Juki LU-2810 model. If money is no object, this is the machine to go for: it's powerful, lightning-quick and versatile. The LU-2810 is designed to consume less energy, saving up to 20% electricity compared to other industrial-strength motors, and the bobbin can hold twice as much thread as the average amount. Its speed almost matches that of the Consew 206RB-5 (3000 stitches per minute), but unlike that machine, it's more than suited to sewing heavy garments.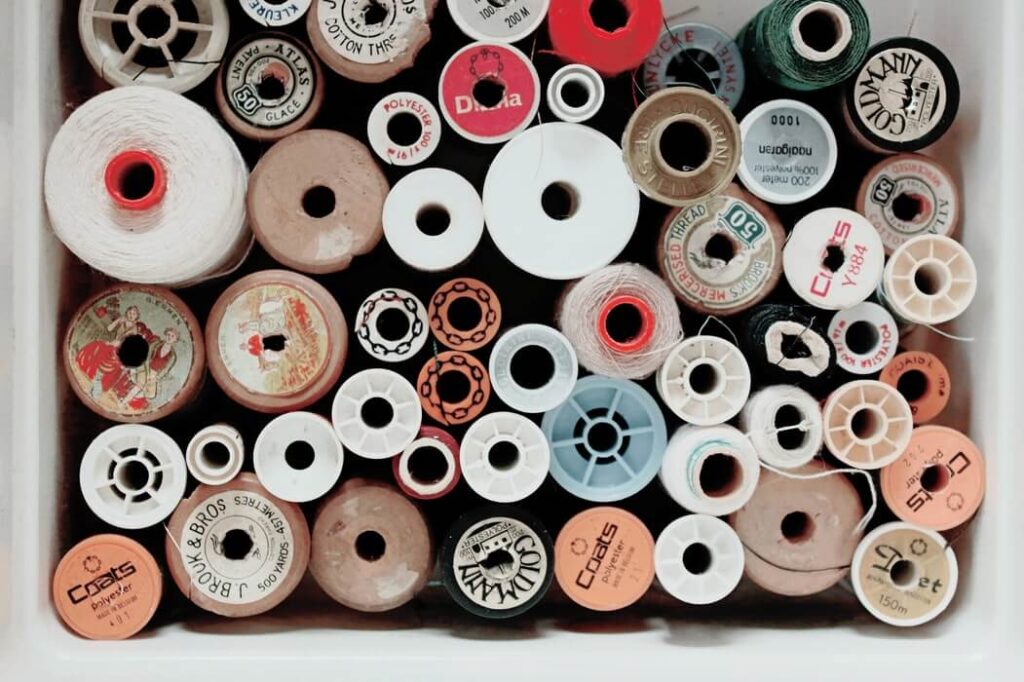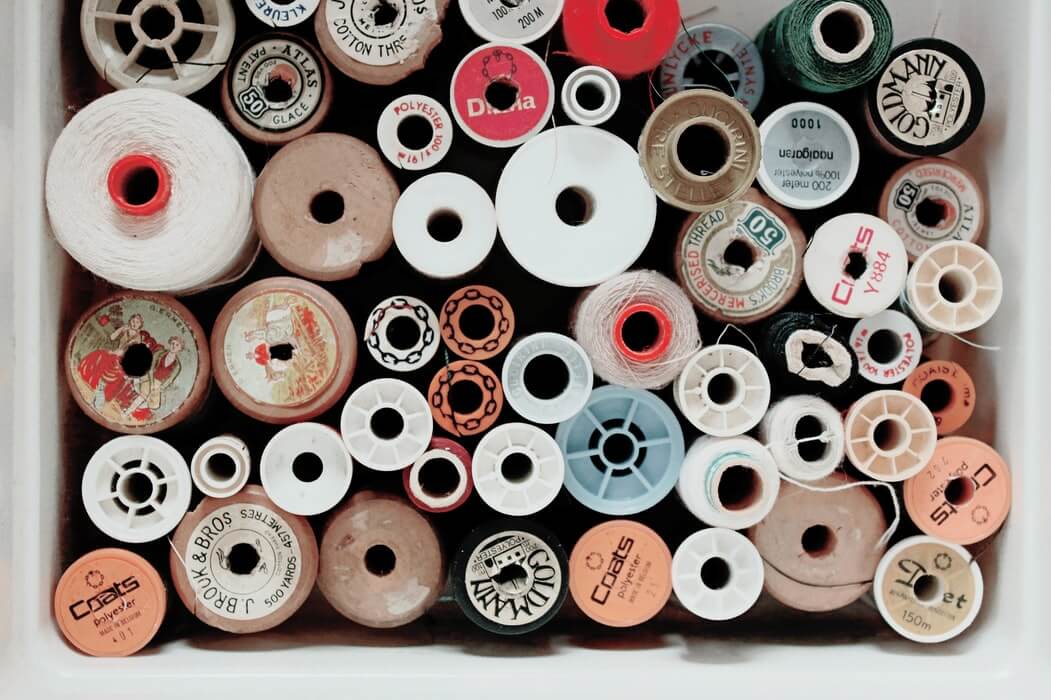 Not ready to make up your mind? Browse our range of sewing machine brands on offer or call our friendly team of sewing experts who can help you make the right decision.
Sewing machines and overlockers – it's easy to confuse the two when starting out on your sewing journey. While they do have some similarities, they each do very different jobs despite overlapping in some areas.
If you're wondering which might be right for your needs, this handy guide will walk you through the key differences between a sewing machine and an overlock machine, as well as how they work together to create high-quality garments.
What is an Overlocker?
Like a sewing machine, an overlocker – also known as a serger – is designed to stitch patterns into fabric. However, it differs in the type of specialised stitching it can create.
As you might have guessed, overlockers are the only machine that can perform an 'overlock' stitch. This is a specialised stitch that sews over the edge of your fabric to reduce excess seam and prevent fraying. It's a great way of stitching together multiple ends of fabric, neatening up a finished product and giving it some long-lasting quality.
Overlockers differ from sewing machines in that they're not suitable to be used on their own when stitching together a garment. They work best in tandem with a sewing machine to complement the more versatile work that sewing machines can perform.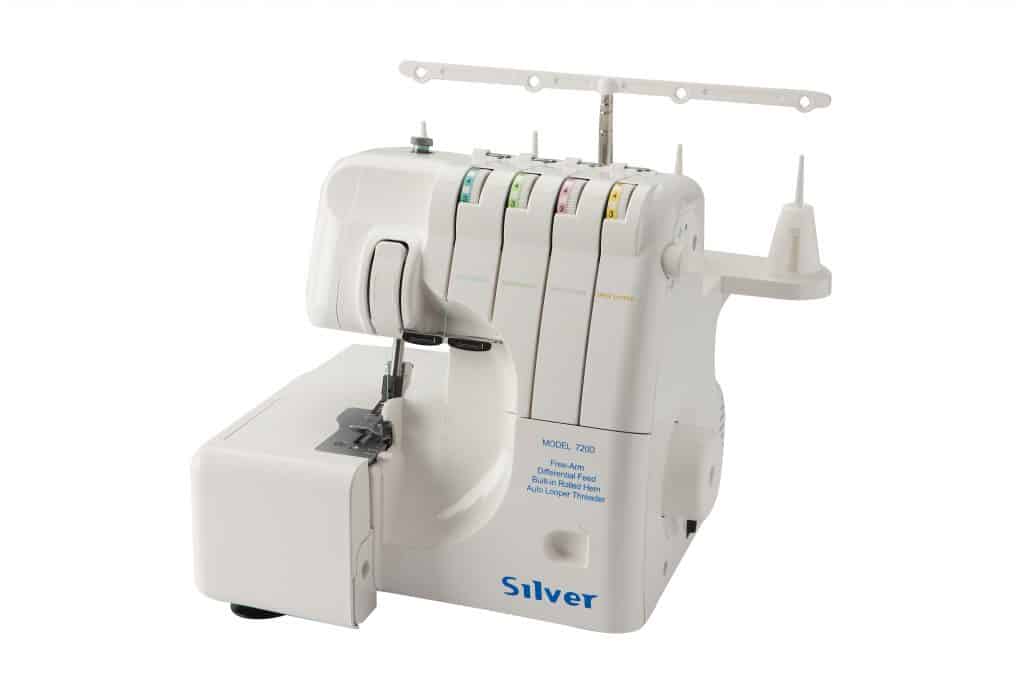 Shop Sewing Machines and Overlockers with Sewing Direct Today.
At Sewing Direct, we're passionate about helping you progress in your sewing skills. Our range of sewing machines, overlockers and haberdashery essentials are curated to meet the needs of sewers from all skill levels.
Browse our fantastic range of sewing machines today, or take a look at our great overlockers for giving your garments an extra injection of quality. See our blog for everything you need to know about overlock machines.
 If you have any questions, we'd love to hear from you – contact us to speak to one of our friendly and knowledgeable team members today.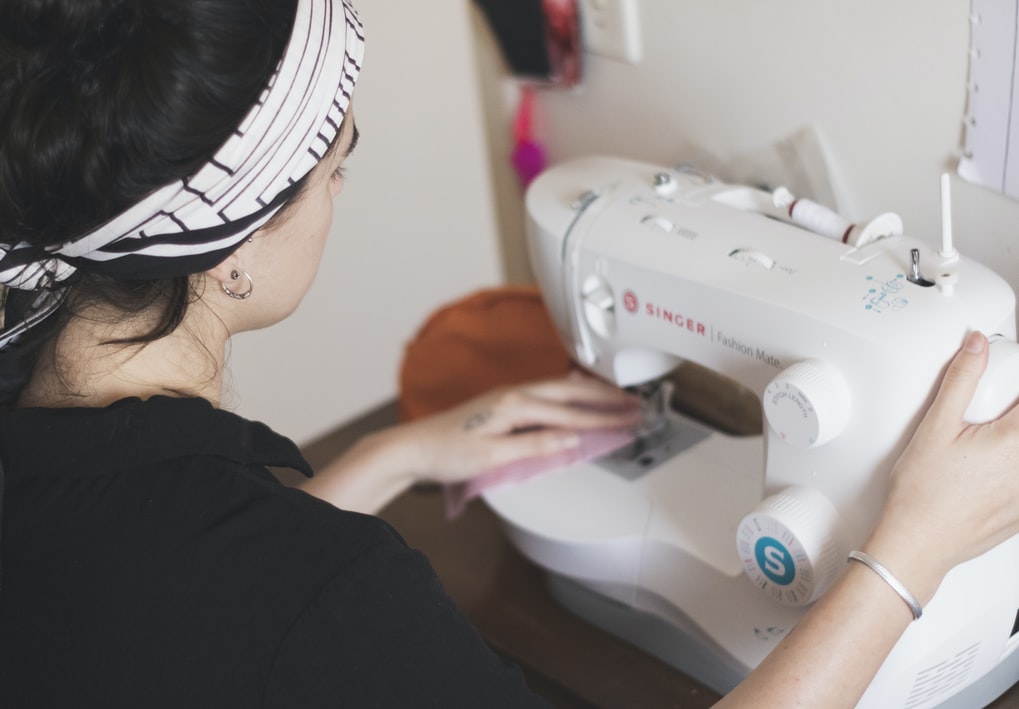 How Does an Overlocker Compare to a Sewing Machine?
Overlockers sew at a much faster pace than sewing machines, typically performing more than 1,500 stitches per minute. Sewing machines, on the other hand, are rarely capable of performing more than 1,000 stitches per minute.
Also, whereas sewing machines only need 1 line of thread for stitching, overlockers need at least 4. As you can imagine, they can be quite tricky to set up because of this, requiring a deft touch and careful alignment. The results, though, speak for themselves; overlock machines can create some truly beautiful patterns, like mock flatlock and cutting knife stitches, which sewing machines simply can't replicate.
Do I Need an Overlocker If I Have a Sewing Machine?
If you're a beginner, it's best to start with a sewing machine as they're more than capable of creating entire garments on their own. Overlockers are great at what they do, but the more complex stitches they create aren't necessary until you've gained some vital experience and are comfortable behind a sewing machine.
Sewing machines themselves can produce an array of stitches including straight, zig-zag and embroidery patterns – not to mention stitching for buttonholes and zippers. Some sewing machines can even replicate overlock stitching, but never to the degree that a true overlock machine can.
All this makes sewing machines ideal for learning the ropes. Overlockers, meanwhile, are specialised equipment suitable for creating complex patterns once you've learned the basics. A fantastic entry-level option is the Silver 720D Overlocker – Silver overlockers are known for their excellent quality, and the affordable price of the 720D makes it the perfect choice for furthering your skill level.
What to Expect When Starting Out in Sewing
Sewing patterns are comprehensive blueprints for building a garment from scratch. They include everything from the required dimensions for multiple sizing options to assembly instructions; these are a boon when stitching together the various pieces to form the final product.
There are two main formats in which to find sewing patterns: physical patterns, which are printed and distributed by brands and retailers directly; and digital, which are usually in PDF-format and available for purchase online.
However, it's worth noting that a physical sizing guide is essential as this will operate as a template when measuring the angles to cut from your fabrics, so even if you have a digital pattern, it will need printing to provide that all-important template.
Start Off Simple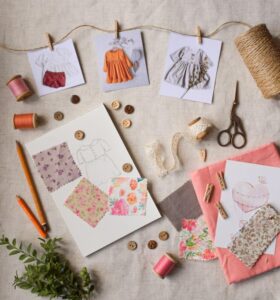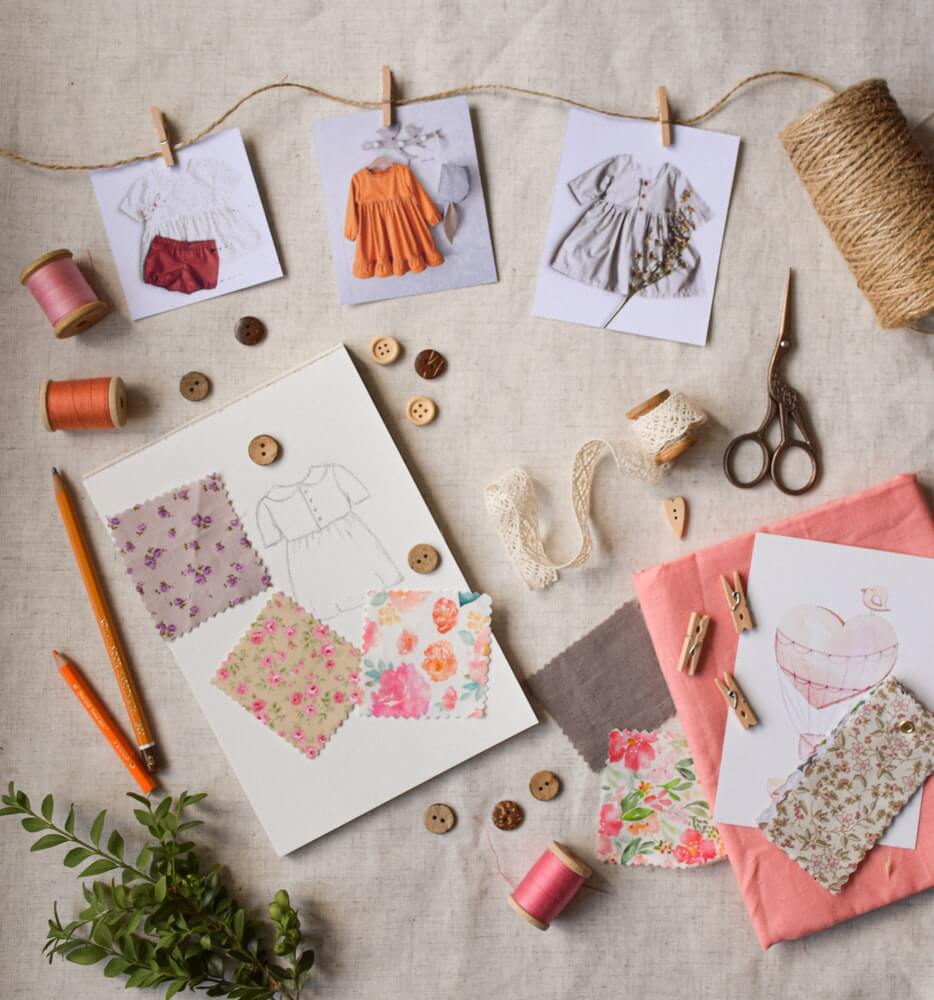 When starting out, it's important to pace yourself and opt for patterns that match up with your current skill level. An easy pattern will help you familiarise yourself with the general formula that sewing patterns follow, as well as serve as a springboard onto harder patterns that you might have your eye on achieving down the line.
Easy patterns can be classed as those that purely require working with fabrics and don't involve any additional pieces like zips or buttons, like our Tilly and the Buttons COCO TOP + DRESS (this one is particularly suitable for beginners).
Additionally, a pattern that doesn't have any tricky angles can be a winner, and selecting fabrics that are easier to cut is likewise a safe bet. Like any skill, though, your ability to read patterns and put them into practice will only grow the more you do it!
So, you have your new sewing machine in hand. What's next?
Foraying into the world of sewing can be daunting at first – especially when it comes to interpreting sewing patterns. Fortunately, this is a skill that quickly becomes easy once you've got to grips with the format; much like following a recipe, it has the potential to be immensely satisfying when your hard work pays off.
With this in mind, we've prepared a handy beginner's guide for getting started on your new hobby and making the most of any sewing pattern.
How to Use a Sewing Pattern
The first thing to do once you have your pattern in hand is to decide which size you will be making the garment in, so select your desired measurements from those available (unless it's a one-size-fits-all item like a scarf or hat).
Next, you'll want to cut out the individual pieces from the sewing pattern to act as guides when cutting your fabric into shape. Alternatively, tracing the pattern onto tracing paper to preserve the original pattern is an option, particularly if the original document has multiple guidelines that overlap.
From here, it's a case of carefully cutting the shapes from the fabric and making any additional markings that will be needed to assemble the pieces (such as small cuts to allow for folds and markings to indicate where the seams are).
Using pins to hold everything in place is a good way to handle fiddly sections – there's nothing worse than having your fabric fall out of place in the middle of stitching!
Browse Our Range of Available Sewing Patterns
Sewing Direct has a wide range of sewing patterns for you to browse when choosing your next project. Be sure to check these out here and contact us with any queries you might have – we're always happy to help.
If you have been keeping up with the latest news in the world of sewing machines, you will know that Toyota machines are no longer being sold in the UK. Though this is a huge shame for anyone who has favoured a Toyota sewing machine in the past, there is no need to worry. At Sewing Direct, we have a wide range of alternative options for you. We are confident that we have a sewing machine brand, model and machine to suit everyone's sewing needs.
Top Alternatives to Toyota Sewing Machines
● Singer Quantum Stylist Model 9960 - If it's an advanced sewing machine you are looking for, you can't go wrong with the Singer Quantum Stylist Model 9660. It really does have everything you need a sewing machine to have. It's simple and convenient, but also packed full of impressive features. It's a great alternative to a Toyota sewing machine.
● Singer Confidence 7463 Sewing Machine - A lot of intermediate sewers opt for a Toyota sewing machine, which is why the Singer Confidence 7463 Sewing Machine is a good alternative. It's simple and easy to use, but it's not lacking in features in any way. It's a great all-rounder and perfect for all types of sewer.
● Bernina S-570QE Sewing Machine - There is no denying that the Benina S-570QE Sewing Machine is on the more expensive side of things, but it's certainly a machine that will impress you. It's ideal for large quilts and projects, as well as more intricate work. Plus, there are a number of features designed to save you time.
● Singer M2105 Sewing Machine - Let's face it, sometimes it's best to keep things simple and that's exactly what the Singer M2105 Sewing Machine does. Though it does not have as many impressive features as other machines, it does have everything you need for day to day sewing. It's lightweight, portable and easy to use.
Sewing Machines at Sewing Direct
As you can see, there is no shortage of fantastic sewing machines to choose from and many are available here at Sewing Direct. Regardless of whether you are a talented sewer with years of experience or a keen individual who is just getting started, we are always here to help you find the ideal sewing machine. To find out more, get in touch with the Sewing Direct team.
Are you passionate about crafts? Or looking to get into a new hobby? Whether you're an experienced sewer or an enthusiastic beginner, we have the perfect machine for you. See five of our top picks, here:
Easy to Use - the Singer M2105 Sewing Machine
Amazingly simple to use, the Singer M2105 is a lightweight and portable model that is ideal for sewing in smaller spaces! Complete with eight key stitches, this Singer model is perfect for beginners and makes it easy to sew small, hard-to-reach areas like trouser hems and sleeve cuffs. Start your sewing hobby today with his machine today!
Handle Big Projects With Ease - the Bernina 540 Sewing Machine
Fast, precise and capable of powerful sewing, no project is too big for the Bernina 540 sewing machine! Produce beautiful work with confidence as the machine ensures no tension stress and has the ability to expertly sew thin and thick materials accurately. Get a sewing machine that will grow with your skills today.
Produce Sophisticated Design - the Pfaff Quilt Expression 720
Benefit from world-class, unique stitch techniques for a sophisticated design that will make your craft project stand out. Floating stitches, stacking stitches and single, double and triple ribbon stitches can be produced for a decorative stitch finish that will bring your sewing dreams to life. Discover the Pfaff's fascinating capabilities today.
Select Stitches at the Push of a Button - the Necchi NC-204D Computerised Sewing Machine
Sewing just got smarter! The Necchi NC-204D computerised sewing machine is full of possibilities for your craft, all at the push of a button. With a clear LCD display, the Necchi sewing machine includes 13 styles of 1-step buttonholes and 3 sets of alphanumeric stitch for basic monogramming. Complete with extension table for a comfortable working surface, you can get your hands on this smart sewing machine today.
Affordable Without Compromising on Quality - the Bernette Funlock 48 Overlocker & Coverstitch
A combination of an overlocker and coverstitch machine, the Bernette Funlock 48 has a total of 23 stitches and a speed of up to 1,300 stitches per minute. With the knife operated from below, the machine ensures not only a cleanly cut edge, but also safe handling, and it can be adjusted comfortably with one hand. Shop yours today.
Shop Our Range of Craft Sewing Machines Today
Whatever your hobby, we have the perfect machine for you! Shop our range of sewing, quilting and overlocker machines online today, and checkout with PayPal for ease!
Sewing machines can be your worst enemy when it comes to actually sitting down and starting a new project. Luckily most of the issues that arise can be solved from the comfort of your own home. We have put together a list of the most common issues or mistakes you could be making with your sewing machine and their solutions, to help you get back to creating!
The Most Common Issues and How To Fix Them
Thread Bunching Up
When stitching you may notice thread bunching up or if you're seeing knots of extra thread on the underside of your sewing, this could be one of a few issues. Your bobbin could either be threaded incorrectly or the bobbin thread could be too loose. A simple fix will be to take out the bobbin case and re-thread it or adjust the bobbin to gain the correct tension.
Broken Needles
The needle is the easiest and cheapest sewing machine repair, however, can cause the most damage! Needles can break if you use the wrong needle with the wrong fabric or if you are using blunt and dull needles. To stop any issues occurring we recommend changing the needle for every project you start. This prevents needles from getting dull and causing bigger issues.
Skipping Stitches
There are several reasons for your machine to be skipping stitches. Check that your needle is installed properly, and that it is not bent or broken. If the top thread is not reaching the bobbin, the threads will not lock properly resulting in a skipped stitch. To combat this, re-thread the machine and test again.
Needle Refusing to Move
Is your machine running but the needle won't move? This seems like a challenging issue, but it has quite an easy fix! Your machine is likely set in bobbin-winding mode, so check that the lever for your bobbin is in the correct position and off you go!
A Dirty/Noisy Machine
If your machine starts to produce an abnormal sound this could indicate that the machine is jammed or requires cleaning! Start by turning off your machine and gently cleaning the machine. Sewing machines need weekly if not daily cleaning to remove lint and fluff from underneath the throat plate. You can also oil the machine using sewing machine oil to prevent rust.
Sewing Machine Repairs
If these simple fixes do not seem to be helping with your sewing machine then not to worry! One of our expertly trained team members will be able to help with our handy maintenance repair service. We take pride in solving your sewing repair problems and we have a vast knowledge of different sewing machines, models, and ages. To learn more about this service and to book a maintenance repair service today, please contact us.
Shop Our Wide Range Of Sewing Machines
If you are totally fed up with your old sewing machine or you're ready to take your sewing to the next level, then why not shop our collection of sewing machines. Our range of Singer Machines are perfect for complete beginners and professionals alike. At Sewing Direct, we're very proud to be one of their longest-serving official dealer's shops.
When the word computerised pops up, technology and automation springs to mind. The same is true for sewing machines and advances in technology have had an impact on the machines that are available today. Traditionally, sewing machines would have had manual or mechanical functionality, although in more recent times, computerised sewing machines have become available for the home. Here, we look into what the advantages are of owning and operating a computerised sewing machine.
What's the Difference Between Mechanical and Computerised Sewing Machines?
The differences between the two types of sewing machines is where some of the clear benefits can be identified. Although just because one is computerised and the other isn't, doesn't necessarily mean one is better than the other and an important fact to consider is the type of sewing you want to be doing.
Essentially the difference comes down to the structure of the machine. Mechanical sewing machines operate from manual functionalities, whereas computerised machines use automated features. These automated processes are one advantage to using a computerised sewing machine.
Computerised Sewing Machine Benefits
Automated processes: computerised machines are operated digitally through either buttons and a screen or fully touch screen controls. Screens provide clear and easy to follow stitch functions and programs. Following from this, the built-in processes that are available include such things as automatic needle threaders, automatic presser foot pressure control, programmable needle up/down and automatic tension. These automated features can save valuable time and effort once you're comfortable applying them.
A variety of makes and models to choose from: from entry-level machines, perfect for those just at the start of their sewing journey to more advanced machines for the seasoned sewer. The range (and price range) of computerised sewing machines gives you plenty of options to choose from. Our range of computerised sewing machines is available to view on our online store.
A wide range of stitches and patterns: with a computerised machine at your fingertips, you also get access to a multitude of stitch and pattern variations, many of which are built in. Not only do they come with a lot of stitches as standard, they also have the ability to create and save stitch sequences.
Reliability in the finished product: the accuracy of using a computerised machine means you will produce consistent results and stitching of great quality every single time. The computer does the hard work, so you don't have to.
Simple and straightforward to use: once you get to grips with the layout and the controls, your sewing will be simplified. Enjoy using stitches and patterns you might not have done before with a manual machine, knowing that the computer will help to produce a great finish. Save time, energy and resources with the technology of a computerised machine.
Get Your Computerised Sewing Machine Today
At Sewing Direct, we have a wealth of expertise in sewing machines and computerised machines in particular. If you are unsure of which one is right for you, get in touch with us and we will be happy to help you choose the right machine.
Selecting the right sewing machine to suit your skill set will be extremely beneficial for learning the art of sewing. As a beginner operating a sewing machine with additional features may be trickier to get to grips with and could become frustrating to use. A good sewing machine to start off with will be simple and straightforward to operate, yet professional in stitching quality.
Here, we round up the best sewing machines for beginners available on our online store, with a variety of brands to choose from.
Singer M2105 Sewing Machine – Amazingly Simple & Easy to Use
The first of our sewing machines for beginners is the Singer M2105. Singer is an extremely reputable and trustworthy brand, with a great range of beginner machines, and the M2105 is the top model in their M series range. Their machines are robust and made to last, no matter the budget, so are perfect for beginners looking to expand on their skills..
The Singer M2105 in particular is one of the smaller sewing machines in the range, as well as being portable and light. This makes it ideal for transporting to sewing classes, storing away and sewing where space is limited.
With this machine's user-friendly, eight preset key stitches, you can start sewing straight away without having to guess the settings, and the LED lights make threading your machine easier. A convertible arm makes this an easy-to-follow sewing machine perfect for beginners, whilst the electronic foot control means you can start slow and set your own pace for full control.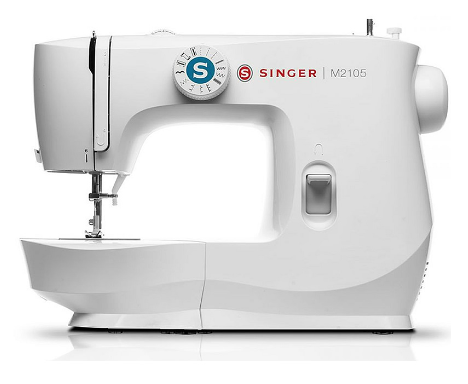 Pfaff Smarter 140s – Simple Easy to Use Machine
The second of our beginner sewing machines is the Pfaff Smarter 140s, a truly great machine for those just starting out.
The Pfaff Smarter 140s offers an advanced range of stitching settings, 21 in total, including utility stitches, decorative stitches, stretch stitches and a buttonhole. This diverse range of settings makes this sewing machine a great option for those looking to expand their knowledge of sewing and take on a variety of sewing techniques.
Thread needles with ease with the Pfaff integrated needle threader. Simply hold the thread, pull a lever and that's it. LED lights make working into the night a breeze, whilst the smart grip dials show stitches and numbers to make your selection quick and simple.
A top-loaded bobbin provides easy access and means you can easily check the amount of thread you have left before needing to wind your bobbin up.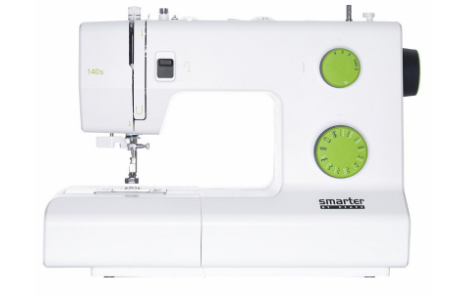 Singer Model 3321 Talent – Keeping Sewing Simple
Another great Singer sewing machine is the 3321 Talent model. Similarly to the Pfaff sewing machine mentioned above, the Singer model 3321 Talent includes a 21 stitch pattern feature, so you can expand your sewing skill set.
This is the perfect machine for beginners with a passion to learn more advanced techniques. Singer have still kept it simple so you can progress through sewing with ease. Of the 21 stitches on offer, you have six essential stitches, ten decorative stitches, four stretch stitches and one automatic 4-step buttonhole.
An automatic needle threader takes the frustration out of setting up your machine, and the top drop-in bobbin system makes threading your machine even easier. Four snap-on presser feet provide a range of options for your sewing needs, from basic stitches to fashion-forward projects.
This Singer machine makes sewing fun and easy with a large number of beneficial features for your sewing projects, from complete novice to hobby dressmakers.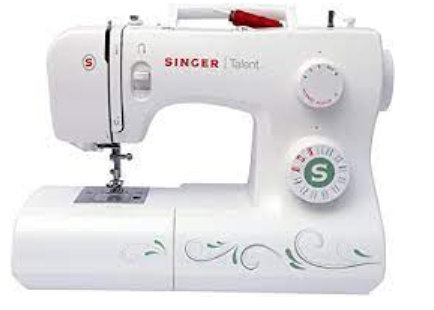 Bernina 325 - delightfully simple to use
Bernina sewing machines offer exclusive functions and features that simplify sewing, making the Bernina 325 a perfect choice for beginners.
One of only a few of the machines we offer with an LCD display, allowing you to bring your creativity to the forefront by choosing your favourite stitch combinations and making them available at the touch of a button. With 40 stitch types, and a 30 stitch memory it couldn't be easier to find what you need for different projects.
Like the Pfaff and the Singer Talent 3321, the Bernina 325 offers a built-in needle threader to save you time getting started on your projects and makes changing your thread easy and free of hassle.
The Bernina sewing machine takes you back to basics, with modern ease of use. No matter the project, the variety of stitches, needle positions and presser feet means there's something for every task.
Sewing Tips for Beginners
When learning to sew it's easy to get muddled. We've compiled some tips for beginners to help make your sewing journey as easy as possible.
Use matching threads - When setting up your sewing machine you will have two different sections for thread at the top and the bottom. Making sure to use the same thread on both sides will help you to avoid uneven tension or breakages within the machine and on your garment.
Hold onto the tails of thread - before you begin to sew the tail ends of thread will be loose, keeping hold of it will ensure smooth stitches.
Keep it clean - caring for your machine will ensure they stand the test of time. Sewing machines are an investment, so keeping them clean and caring for them properly will benefit you in the long run.
Take it slow - you've heard the phrase "slow and steady wins the race"? Going slow with the speed control of your machine will provide a more precise and steady stitch.
Beginner Sewing Machines at Sewing Direct
At Sewing Direct, we have an extensive range of sewing machines, many of which are ideal for beginners looking to get started with sewing, or hobbyists looking for a simple machine for occasional use. If you are interested in purchasing your first sewing machine but are unsure which one is best for you, our friendly team of sewing specialists would be happy to help. If you visit us in-store, we have a number of machines available for you to test and get familiar with. Alternatively, you can contact us online or over the phone and we can answer any queries you may have.