Description
Juki TL-2200QVP MINI Heavy-Duty Machine
The Juki TL-2200QVP is a high-speed sewing and quilting machine known for its straight-stitch solid capabilities and powerful motor. It is a popular choice among quilters and sewing enthusiasts who require speed and precision for their projects. Or bag makers for its pure workhorse capabilities
Here are some key features and benefits of the Juki TL-2200QVP MINI Heavy-Duty Machine:
High-Speed Sewing: The Juki TL-2200QVP is designed to handle high-speed sewing, making it an excellent choice for those who need to complete projects quickly and efficiently.
Straight Stitch: This machine excels at straight stitching, ensuring clean and precise lines on your projects.
Heavy-Duty Construction: The Juki TL-2200QVP is built with robust and durable construction, making it suitable for heavy materials and projects like quilting and bag making.
Large Workspace: It offers a spacious work area, allowing you to work on larger projects easily.
Stitch Length and Pressure Adjustment: The machine offers flexibility with adjustable stitch length and presser foot pressure, allowing you to customize your stitches to suit your needs.
Foot Pedal Control: The foot pedal gives you precise control over the sewing speed, so you can easily adjust it to match your sewing style.
Thread Trimming: Some models of the Juki TL-2200QVP come with automatic thread trimming features, saving you time and effort.
Needle Up/Down Function: This feature allows you to set the needle to stop up or down, making it convenient for pivoting and turning corners.
Extension Table: It often includes an extension table useful for supporting larger projects and quilts.
Overall, the Juki TL-2200QVP is an excellent choice for quilters, bag makers, and anyone looking for a reliable, high-speed, straight-stitch sewing machine. However, it's worth noting that there are different variations and models within the Juki TL series, so you may want to research and choose the one that best suits your specific needs and budget.
This is a Table Top Sewing Machine
This portable machine is easily transported and can be carried wherever you desire.
Needles
The machine utilizes the standard sewing needle with flat edge.
The arm and bed of the TL-2200QVP Mini are crafted from aluminium die-casting, creating a sturdy frame that minimizes vibrations during sewing and guarantees exceptional stitch quality. Given its numerous industrial sewing machine characteristics, the TL-2200QVP Mini can accommodate various industrial presser feet.
Larger Work Area
This machine offers a more expansive working area than a standard sewing machine, providing extra room for manoeuvring large-sized materials or quilting fabric rolls. Additionally, it comes with an auxiliary table to expand the workspace for quilting and larger sewing projects.
Juki TL-2200QVP MINI Heavy-Duty Machine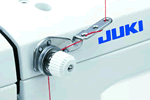 Sub Tension Unit
The Sub Tension Unit ensures thread feeding to the needle is smooth, even and twist-free, no matter how thick your thread is. It also keeps the thread from quivering when sewing at high speeds and provides accurate, fine-tuned thread tension.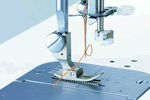 Automatic Needle Threader
The automatic needle threader quickly and easily threads the needle without eyestrain, allowing you to change thread colours as often as you wish.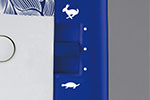 Maximum Sewing Speed Control
The adjustable slide lets you easily control your sewing speed from 200 to 1,500 SPM. This will give you complete control of your sewing speed in piecing and free-motion quilting.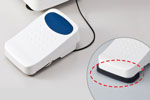 Foot Controller with thread trimming function
It is possible to automatically trim both needle and bobbin threads by pressing the heel side of the foot controller.

The thread trimming function can be disabled by attaching a Foot Switch Stopper to the controller.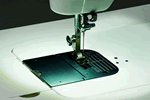 LED Light
LED light brightens the needle area for better material handling.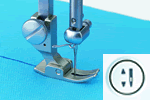 Needle Up/Down Control
Change the needle position to up or down as desired by simply pressing the up/down needle button.
When the button is pressed continuously, the machine will sew stitch by stitch.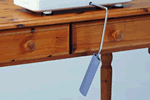 Knee Lifter Lever
The knee lifter lever lets you lift/lower the presser foot without using your hands.
The presser foot can be raised as high as 12mm.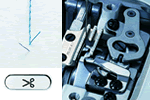 Automatic Thread Trimmer
With your automatic thread trimmer, you can trim both the needle and bobbin threads simultaneously as desired.
Enjoy the same thread trimming mechanism as many of our Juki Industrial Sewing Machines.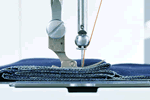 Heavy-weight materials are sewn with Ease.
The speed control mechanism, operated by a microcomputer, allows the machine to sew materials at low speeds. This provides accurate feed and perfect stitching when sewing heavy-weight fabrics, quilting and multiple layers of materials.
Thread Tension Scale
The machine also has a thread tension scale, which allows you to adjust the tension according to the thread and material used.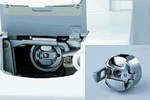 Horizontal-axis Full-rotary Hook
Create perfectly balanced stitches for beautiful seams.
Bobbin thread tension is also adjustable.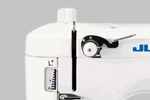 Presser Foot Pressure Adjustment
Presser foot pressure may be adjusted by turning the regulator dial on the machine's top to accommodate fabric thicknesses.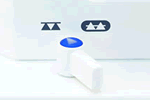 Drop Feed
The feed dog can be raised and lowered simply by depressing a switch. When quilting, the drop feed allows you to sew curved stitches easily.
Check out the other Juki machines here.